The Doctor of Philosophy from the University of Saskatchewan in Canada, Dawn Wallin, gave a talk about teacher improvement at the launch of a new department at the Universidad Católica del Maule (UCM).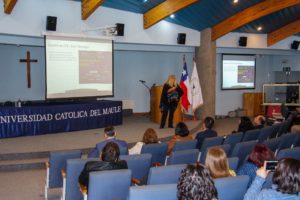 Dawn Wallin, Ph.D. in Philosophy from the University of Saskatchewan in Canada, shared her experience in the inclusion of indigenous peoples in educational processes with academics from the Universidad Católica del Maule.
The teacher, known in the rural education, gender and equity fields, offered a talk that covered the last twenty years of academic improvement in her province. The activity was part of the launch of the new Departamento de Investigación en Docencia Universitaria (DIDU), within the campus.
"Changes are difficult; you have to face them with an open mind and recognize that others can make contributions", said the expert regarding the creation of the unit dedicated to academic improvement.
«Systems are often resistant to change,» she added, «but if individuals work passionately together, they can pave the way for near-immediate transformations not just for teachers but for students as well.»
As an example, Wallin explained how the educational system in Canada has included diversity and the «First Nations.»
"For native peoples, kinship implies a deep understanding of the relationship between humans, where everyone brings gifts or contributions to the circle. That understanding applies equally to the relationship with the earth and the world. In Chile, the teachings of indigenous people could be used to learn reciprocity and make positive changes,» she asserted.
Starting at K–12
The Vice President of Research and Postgraduate Studies at the UCM, Ph.D. María Teresa Muñoz, highlighted the early intervention of the Canadian model.
"I was struck by the work they do to adapt their programs for diversity, how they recognize the different native peoples and how they start very early with this, from primary education. It is striking that everything is articulated transversally. It corresponds to a task that we have as an institution," she stressed.
Regarding the inauguration of the DIDU, the authority pointed out that it was a pending wish, "It was a dream because for a long time we wanted to strengthen the development of research in university teaching. This will make it easier for us to improve the capacities of our academics, so that they can carry out research and then, with those inputs, innovate within the classroom."
For Aquiles Almonacid, director of DIDU, the launch of the department will also allow the deployment of new strategies, "Education, Medicine, Law, and Health experts teach future professionals, and we want this to be in the best way possible. We are still a small area, but we will make it grow in volume and quality," he emphasized.